Free Walking Tour Cartagena
The Best Free Walking Tour in Cartagena
MEET POINT: Plaza Santa Teresa
The best tours in Cartagena - Colombia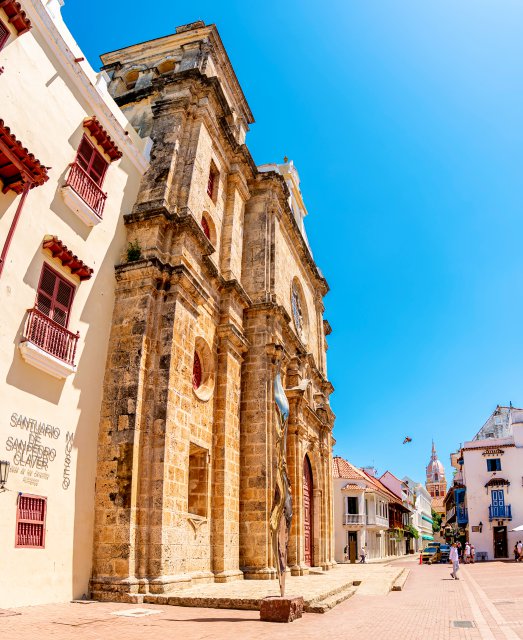 In this Free Walking Tour, we will visit the main places of interest of the "Corralito de Piedra in Cartagena", so that you can learn about and enjoy the history of Cartagena…
Tour of the most emblematic sites of Cartagena. Pickup at your hotel if you are staying in the old city or Bocagrande in an air-conditioned vehicle.
The most complete tour in the old city because in two and a half hours we walk all the squares of the historic center of the city (Centro and San Diego)…
The Bazurto market is a traditional market offering fish, meat, fruit, clothing and is as important in Cartagena as The Old City or The little Miami (Bocagrande)…
Come and meet with us "SAN BASILIO DE PALENQUE", the first territory FREE of slavery in America, just 48.5 km from Cartagena. Know their culture, music, language, cuisine and it´s people…
Explore San Diego and Getsemani neighborhoods with us and discover how history, art and culture are combined in these two sectors of the historic center of the city.
Stories and Legends of Cartagena – Colombia
We are pioneers in providing a free walking tour in the city.
We have been awarded with the Certificate of Excellence in TripAdvisor since 2014 based on the user feedback.
The guides are motivated by their passion for Cartagena and its historical and cultural treasures, besides the legends narrated that give a unique touch to our tours
We cover the main sights of the walled City. Our goal is to make the visitor spend a good time, which is why we tailor each tour according to the group.
Our local guides with their vast experience and versatility to transport you full of charming colonial Cartagena.
Walking tours of the most representative sites of Cartagena.
We have been awarded the Certificate of Excellence in TripAdvisor since 2014 based on feedback from our users.
THE BEST FREE WALKING TOUR IN CARTAGENA
Meeting Point: Plaza Santa Teresa
The exploitation and sexual abuse of minors is sanctioned with a penalty of privation of liberty in accordance with the law 679 from 2001 in the Colombian penal code.